The best compost types for planting hanging baskets
Spring has officially sprung and April's just around the corner, which means it's the perfect time for planting your summer or perennial hanging baskets – but before you start, what are the best compost types for this early, annual gardening project?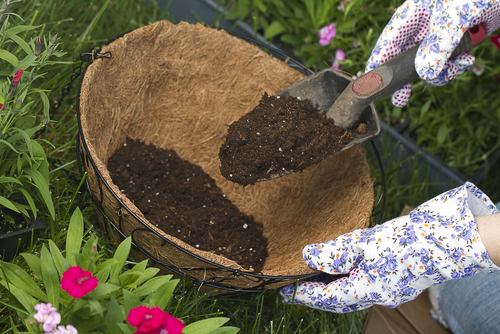 There are lots of different compost types, and to some degree, you need to have an idea about what you're planting before you choose. Getting the right mix of ingredients is essential if you want to improve the quality of your blooms and help you maintain your baskets throughout the summer or across the year.
When planting hanging baskets and ensuring the best, blooming results, many gardeners will choose a standard multi-purpose compost. However, while these are often good enough to do the job, there are plenty of composts that have been specifically designed for planting tubs and hanging baskets – and we definitely recommend using these rather than more generic types of compost.
Ingredients in hanging basket compost
Composts are usually composed of a base ingredient (peat, loam, recycled green waste, manure etc) with some added extras, such as fertilisers to ensure they get the major nutrients needed for healthy growth – the main ones being nitrogen, phosphorous and potassium.
Hanging baskets require quite a lot of care and attention, so additives to look out for in a good hanging basket compost are a slow release feed and water-retaining gel – this will help keep your flowers fresh and growing throughout the lifespan of your arrangement. Hanging baskets have a tendency to dry out, so keeping a good level of moisture within the basket is essential.
We recommend the best compost for baskets…
With lots of products on the market, it can still be hard to decide which is the best compost type for hanging baskets, but here at Vertigrow, our experts recommend J. Arthur Bower's Tub & Basket Compost.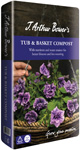 This compost has been specially formulated for container arrangements, and includes the water retaining agent vermiculite and all the nutrients needed to keep your shrubs or flowers well fed for 6-8 weeks. Once these nutrients have been absorbed, you'll need to start adding a regular dose of liquid plant food – but again, do choose one that's been specifically designed for baskets and tubs.
By choosing a purpose-made compost, you shouldn't need to fuss around with watering systems and old tricks such as lining the basket with plastic sheeting, or inserting a plant pot in the centre as a water-feed.
Linings for your hanging baskets
It's not just about getting the best type of compost for your hanging baskets; you need to choose the right liner too.
Personally, we're big fans of coco hanging basket liners; they're great for the beginner as they come pre-moulded to fit your basket, and they're tidy and very easy to use. They're made from coconut fibres, so are completely natural too.
There are a couple of other types of liner you can consider too though:
Burlap – low cost, versatile and eco-friendly, but no water-retaining properties to speak of.
Supamoss – allows for drainage but also offers some water retention, but not a good choice if you want something natural. You can also try sphagnum moss, although for a novice gardener, you might find it a bit difficult to work with.
We'll cover other types of compost and their various constituents in a future post, but if you're planning on planting hanging baskets this year, then get started soon and remember to opt for a compost that's been designed especially for the job!
You can find our complete range of composts here and our basket plants here.